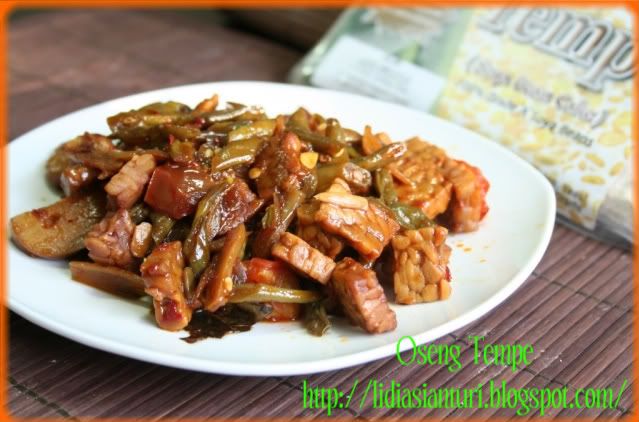 This is one of our family favorite dishes for it is simple yet delicious. OK, just straight to the point of how to make it...here is the recipe...
Ingredients:
- 2 blocks of tempeh, cut into small cubes and fry it until half cooked
- 250gr of haricot beans, cut into 4cm in length
- 6cloves of garlic, chop thinly
- 3cloves of small red onion, chop thinly
- 2Tbsp of
sambal oelek
(crushed chili, available in jar at Asian stores)
- 3cm of galangal, cut into 3
- 3 Indonesian bay leaves
- 1Tbsp of palm sugar (you may replace it with brown sugar)
- 2Tbsp of sweet soy sauce
- 2Tbsp of fish sauce
- 1 tomato, cut into 12
- water
- oil for saute
Directions:
In a wok saute garlic and onion with a little bit of oil until fragrant. Add fish sauce, bay leaves and galangal and stir it while continue to saute for 2minutes. Add sambal oelek/crushed chili and some water (app. 100ml), stir it well. Add tempeh and beans and stir it well and cook until boiling. Add palm sugar, sweet soy sauce and tomato, continue to cook for another 4minutes. Adjust the taste with fish sauce and sweet soy sauce. Serve it with warm steam rice.