All of a sudden I craved for chicken congee, the name for Chinese rice porridge that has a lot quantity of water. Normally it is eaten for breakfast or late supper. Usually we got it from a Chinese restaurant, but since we are new to this town, we do not know yet where to find this porridge. Thus 4 days ago I gathered my courage to make it myself. I browsed around on the internet for some online recipes and at the end come up with my own version of recipe.
Ingredients:
- 1 whole chicken leg, to make broth
- 2 chicken breast fillet, cut into thin slice
- 2 cups of rice (I used jasmine rice)
- water (I did not measure, but it was a lot)
- 2.5Tbsp of cooking wine (I used the one that has sugar, salt and rice spirit in it)
- 5cm of ginger, cut into thin slice
- 5 cloves of garlic
- salt
- sugar
Side dish:
- soy sauce with chili
- fried onion
- fresh cilantro
- you char kway or Chinese cruller or
cahkwe
(I did not have it)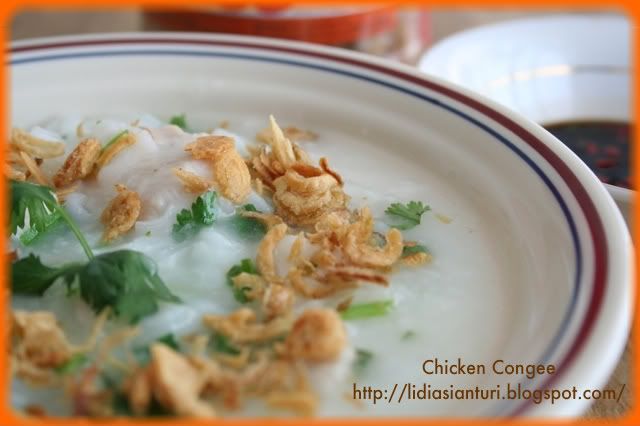 In a pot, boil chicken leg with a lot of water until tender. Take it out and let it cool off. Shredded the meat and put it aside. In a container, marinate the chicken breast meat with cooking wine, garlic, ginger and sugar for at least 20minutes. Meanwhile, use the chicken broth to cook rice. Add ginger and salt. Continue to cook until it becomes porridge. Add more water as needed. Pour the chicken breast with all the marinating juice into the porridge and continue to cook for another 8minutes or until the meat tender. Stir it occasionally to avoid burning. Add the shredded chicken leg meat and then adjust the taste with salt and sugar.
To serve, pour the porridge in a bowl. Sprinkle some fresh cut cilantro and fried onion. Eat it hot with chili soy sauce and Chinese cruller/
cahkwe
.