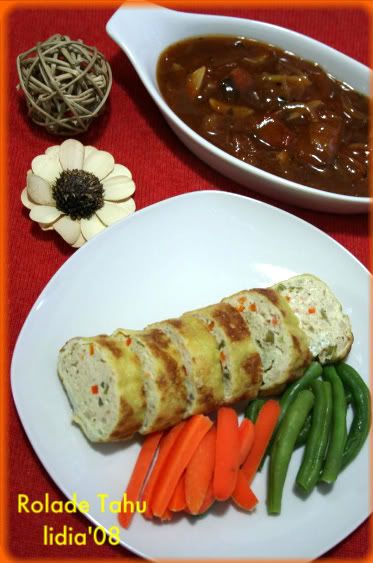 After juggling from one errand to another, eventually I finished making this month menu and here I am gladly sitting in front of my computer to type the recipe to share with you my beloved readers....
Yes, it has been a hectic week for us, Bianca got itchiness since 3days ago due to cold allergic. The itch made her very uncomfortable and cranky and it influenced her little brother. I have been having sleeping deprivation for sure...But I thank God for giving me strength and good health so I am able to take care my precious.
So to participate in this monthly event held by Indonesian foodie bloggers, I am posting this steamed tofu rolls...

Ingredients:
- 4 blocks of medium firm tofu
- 12 shrimp, peel of the shells
- 8 baby carrots, dice it
- 10 harricot beans, slice it thinly
- 1 king oyster mushroom, dice it
- 2 cloves of small red onion
- 6 cloves of garlic
- 1tsp of ground nutmeg
- 1tsp of ground white pepper
- salt
- 2 eggs
- 2Tbsp of tapioca flour
- thinly made plain omelet
To make sauce:
- 1 clove of onion, chop thinly
- 4 cloves of garlic, chop thinly
- 1 tomato, cut into 12
- 2Tbsp of ketchup
- 4cm of ginger, cut into 3
- 2Tbsp of oyster sauce
- salt
- sugar
- 1tsp of ground white pepper
- 300ml water
- 1Tbsp of corn starch, dissolve in a little bit of water
- oil for saute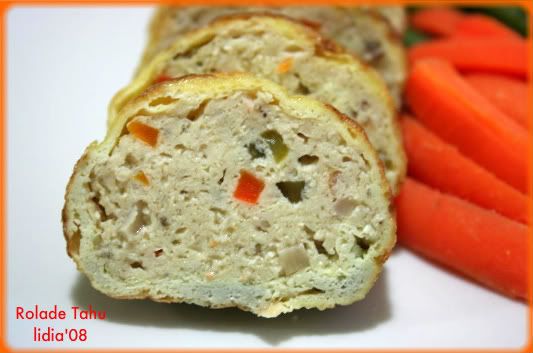 Directions:
In a chopper chop tofu, garlic, onion, and shrimp until smooth. Transfer it into a mixing bowl and then add diced carrot, mushroom and beans and mix it well. Add pepper, nutmeg, salt, egg and then tapioca flour and mix it well again. Place the thin omelet on a piece of aluminum foil and then put the mixing tofu in the middle and roll it into cylinder shape. Close the two end by folding the foil. Steam it for 45minutes.
To make sauce, saute onion, garlic and ginger until fragrant. Add tomato and cook for 5minutes. Add oyster sauce, salt, sugar, pepper and water. Cook until boiling. At last add corn starch solution and stir it instantly until thicken.