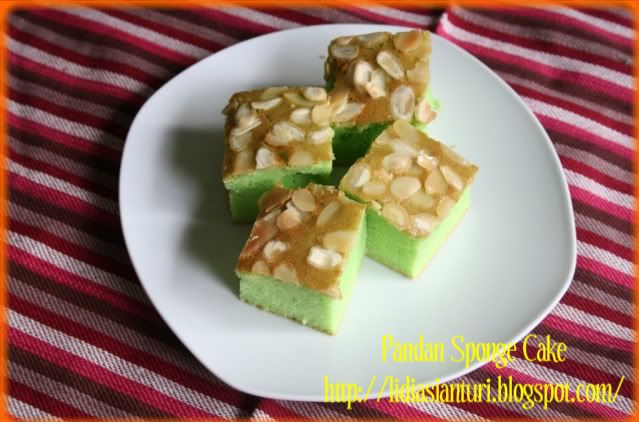 One of those nights, when I was waiting for my husband to get home from work, I felt like baking something simple. The choice went for pandan sponge cake. I copied the recipe from
Shinta's Little Kitchen
. But I did not make the custard cream filling, since I do not really into sweet. I made a bit of modification and added some sliced almond on top. Thank you Shinta for sharing the recipe....
Ingredients:
- 5 egg yolk
- 3 egg white
- 100gr granulated sugar
- 100gr all purpose flour
- 10gr baking powder
- 60gr soft margarine
- 2Tbsp of fresh milk (I replaced it with 2Tbsp of coconut milk)
- 1tsp of pandan paste
- 1tsp of vanilla essence
- sliced almond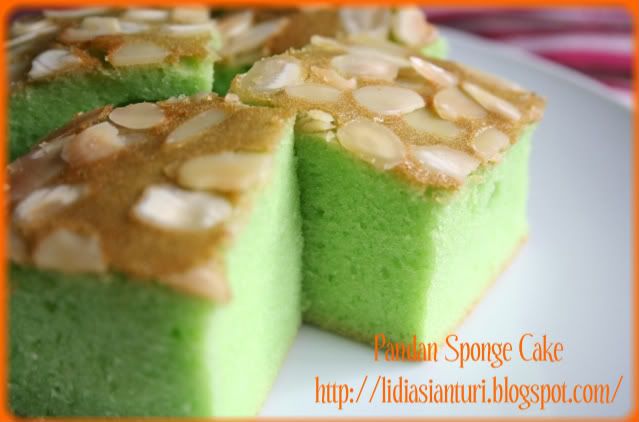 Directions:
Using a mixer, mix eggs and sugar at medium high speed until fluffy and reaching good overrun. Add vanilla essence. Lower the speed of the mixer and add the flour and baking powder gradually. Add coconut milk and pandan paste and continue to stir at low speed. Add soft margarine and stir it well. Preheat the oven at 370F. Pour the dough into a 20 x 20 cm baking tin which was previously layered with margarine and flour, and then sprinkle some sliced almond on top. Bake for 25-30minutes.