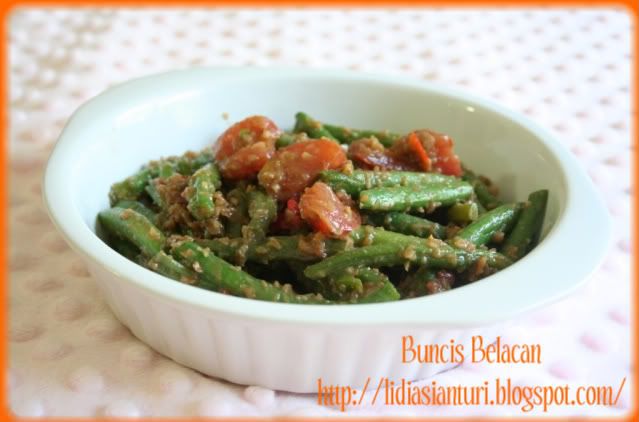 My first encounter with this meal was back then when I was still living in Australia. There was a Chinese restaurant closed to my apartment which sells this menu and it tastes soooo good. The restaurant was always full, even though the waiters mostly were not friendly. It's just because they served delicious food at affordable price for students like me.
Then last month, after taking my daughter to swim on a very hot day, we stopped by at a Malaysian restaurant and had dinner there. We ordered this buncis belacan and it tasted as good as the one I used to have in Sydney.
So last week, I convinced myself to prepare it on my own.
Ingredients:
- 350gr of haricot beans (
Indonesian=buncis
), cut into 8cm in length
- 6 cloves of garlic
- 4 cloves of small red onion
- 12 chili paddy or bird's eye chili
- 1 tomato, cut into 8
- 2tsp of shrimp paste, grill it
- 1Tbsp of fish sauce
- salt
- sugar
- oil for saute
Directions:
In a chopper, crush all of the ingredients, except beans, tomato, fish sauce and oil until smooth. Then saute it with a little bit of oil in a wok for 3 minutes. Add fish sauce and the beans and stir while continuing to cook until done. Add tomato and cook for another 2minutes. You may add a little bit of water if you like to make it watery (I prefer it dry).