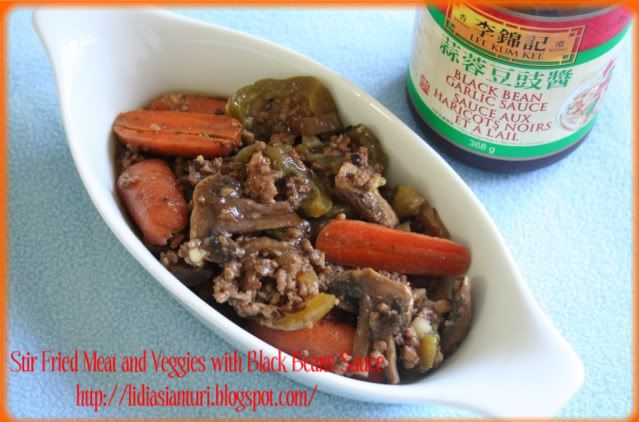 Another lazy day for me...so I just made this simple meal for my family...Easy and quick to prepare, still full of nutrition.
Ingredients:
- 400gr of ground beef
- 200gr of washed mini carrot, cut in half
- 1 green bell pepper, wash and cut into small chunks
- 150gr of mushroom, slice into 4 each
- 1 onion, chop thinly
- 3Tbsp of black beans sauce (available in a jar at Asian stores)
- water
- 1Tbsp of sesame oil
- salt and sugar
Directions:
In a wok, saute onion with sesame oil until fragrant. Add ground beef, stir and cook until change color. Add carrot and cook for 2minutes. Add black beans sauce and a little bit of water, stir it well. Add green pepper and cook for 2minutes. Add mushroom and cook for 1minutes. Adjust the taste with salt and sugar. Continue to cook until boiling.
Serve it with warm steam rice.