First of all, I would like to extend my greetings to my dear moslem friends from all around the world, who will soon be entering the month of fasting.
Wishing you a blessed month and happy fasting!
I remember when I was still in Indonesia, during the fasting month, people like to have sweets to break the fasting. And only during this month, I noticed a lot of small stalls opened on street selling foods, mainly fresh, cold and sweet dessert.
Kolak
was one of many things they sold. So to remind me of the feeling of that fresh afternoon air, I made
kolak
myself 3 days ago...
Ingredients:
- 3 banana, cut into 1.5cm thickness
- 2 sweet potato, peel off the skin, cut into small chunks
- 1 can of jackfruits
- 1 can of palm seeds
- 1/2 can of coconut milk
- water
- 1 block of palm sugar
- dash of salt
- 9cm of pandan leave, cut into 3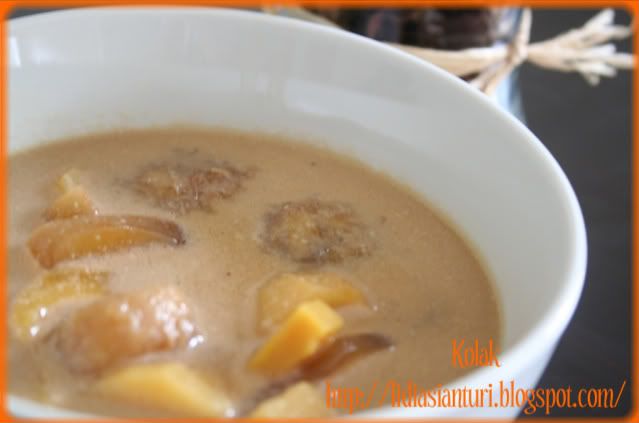 Directions:
In a pot, boil the sweet potato in water until almost tender. Add palm seeds, pandan leaves and palm sugar and stir until all the sugar dissolved. Add jackfruit, banana and salt and stir it well. Continue to cook until boiling. Add coconut milk and stir it instantly. Wait until boiling again and turn off the heat by then.
Keep in fridge before serving, or add some ice cubes if you like.