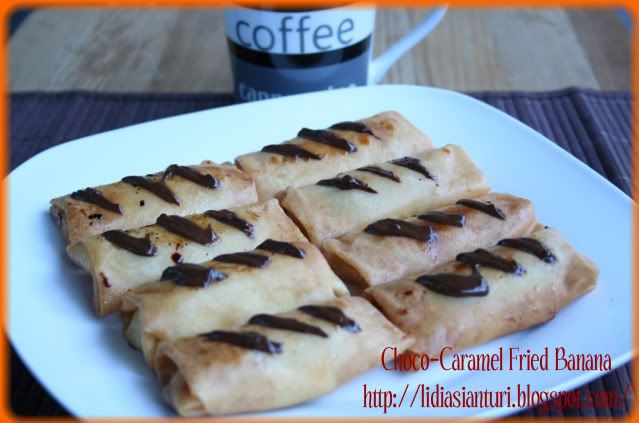 Last Thursday I got a phone call from a friend here asking me if I would be able to prepare vegetable fritters for 8 people with a short notice. Yes she held a party with some of her former classmates the next day. I worried if I can't do it since on Friday there was bug spraying in my apartment building from the Academy Pests Control and because I am pregnant, I should stay away from the building for 24hours. It means that I would not be able to prepare it in my kitchen and I have to sleep over at my friend's house for a nite. Luckily my friend lets me do the cooking in her kitchen and at the end not only I made the vegetable fritter but these choco-caramel fried banana too. Later on that day, the lady who held the party called and told me that she and the guests loved the snacks I made...Thanks to my dear friend
Lucy
who is willing to lend her kitchen for some hours for me to prepare the order.
Here is the recipe for fried banana:
Ingredients:
-6 ripe banana, cut into 2 lengthy and cut again in 2, so one banana will make 4
-24 spring roll skin, available frozen in Asian store, thaw it first
-granulated white sugar
-2 packages of semi sweetened dark cooking chocolate, melt it in a microwave oven for 1-2min
-oil for frying
Directions:
Spread the spring roll skin on a cutting board and then place one cut of banana on top of it (centre position). Using a teaspoon, sprinkle some sugar to cover the banana. Fold the spring roll skin to form an envelope shape and glue the margin with water. Do it for all of the banana. And then deep fry it in hot oil under medium high heat until golden brown. Place it on a plate with paper towel to dry up the excessed oil. When it is warm, spread some melted chocolate on top.
Serve it warm with a cup of tea/coffee.