The name can be confusing to some of you...since there is same term for very different meaning. This
ketoprak
is a name for food, but the other one is for Javanese traditional life show.
Ketoprak
in food term means mixture of bean sprout, tofu, rice dumpling and vermicelli served with peanut sauce, no green veggies - this is what make it different with
gado-gado
or
pecel
.
Ingredients:
- 1 package of instant rice dumpling, boil for 30min, let it cool down and then cut into small cubes
- 4 blocks of tofu, cut into small cubes, fry it until half cooked
- 150gr of vermicelli, boil for 5min, drain it
- 250gr of bean sprouts, boil for 5min, drain it
- fried onion
- Indonesian crackers
- sweet soy sauce
- lime
To make peanut sauce:
- 200gr of peanut, roast it in an oven until cooked, let it cool
- 5 chili paddy (you may add some more if you want it spicier)
- 4cloves of garlic
- 2 lime leaves
- 2Tbsp of palm sugar
- 1tsp of tamarind
- water
- salt
- sugar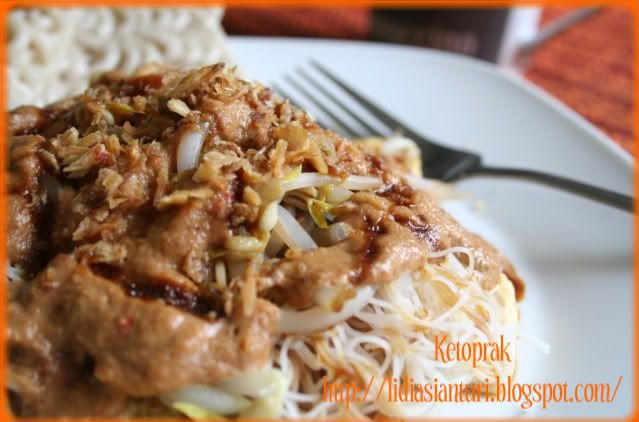 Directions:
To make peanut sauce: crush all of the ingredient to make the sauce in a blender. Add some water as needed until you get the desired consistency.
To serve, place cut rice dumpling, tofu, vermicelli and bean sprout on a plate, then pour the sauce and sprinkle some fried onion on top. Add some sweet soy sauce and drizzle some lime juice over. Add crackers at the side.