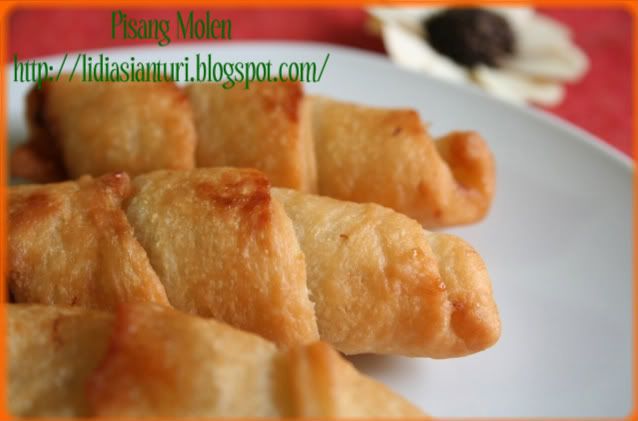 Again, to kill the time of waiting for my husband to be home, I made these
pisang molen
. It is a variation of fried banana and made by wrapping the banana with layers of dough. In Indonesia, usually it is sold on street.
Ingredients:
- 5 banana, cut into 4 each
- frying oil
To make skin:
- 360gr of all purpose flour
- 50gr of granulated sugar
- 1tsp of vanilla essence
- 1/2tsp of salt
- 125gr of soft margarine
- app. 150ml of water
Directions:
Mix well flour, sugar, vanilla, salt and margarine in a mixing bowl. And then gradually add water while mixing it with hand. Continue to mix it until it does not stick. Spread a quarter of the dough on a cutting board and then roll on a rolling pin until you get a very thin layer (you may use a pasta maker too, it is easier!). Cut app. 3cm in width. Then roll over the cut dough to wrap the banana. Keep it aside. Do it again and again for all of the banana. Deep fry them with oil under medium high heat until golden brown and crunchy.
The recipe is good to make app. 20 molen.