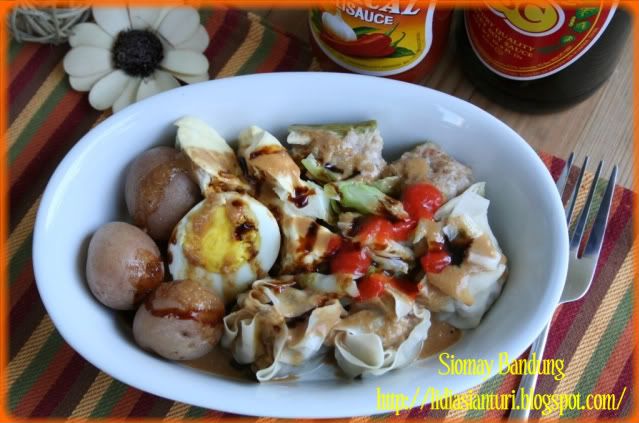 After getting everything set up in our new apartment, we invited some friends to come over for a housewarming. We did it two weeks ago on Sunday afternoon. I cooked this siomay Bandung and my husband cooked fried noodle. One of the guests said that she had not had siomay for two years, she was so happy that I served it on that day..and I am happy it's all gone in a blink of eye..(even though I had to face some complaining neighbors for the loud noise that we made that day...).
Ingredients:
- 800gr of fish paste (you may use other meat too)
- 800gr of shrimp, discard the shell, head and tail
- wonton skin, available frozen in Asian store
- 3 bitter melon, cut into half lengthy, then cut again 5cm in length and discard the seeds. To minimize the bitterness, soak in salted water for at least 20min
- 8 cloves of garlic
- 4 cloves of small red onion
- 3 green onion, chop thinly
- 3Tbsp of fish sauce
- 3Tbsp of oyster sauce
- 1Tbsp of sugar
- 1tsp of ground white pepper
- 3Tbsp of corn starch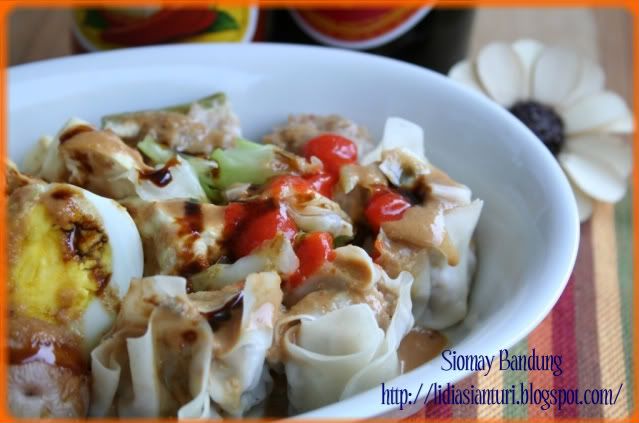 Side dishes:
- 6 boiled eggs, discard the shells and cut into 4 each
- 4 blocks of tofu, cut into 8 triangle pieces each and steam
- 20 small red washed potato, boil
- cabbage, cut into small pieces, steam
- peanut sauce/dressing, see the recipe
here
- sweet soy sauce
- hot chili sauce
- lime juice
Directions:
In a chopper or food processor, put garlic, onion and shrimp and then process it until smooth. Transfer it in a mixing bowl and add ground pork, mix it well. Add the rest of the ingredients, except bitter melon and wonton skins, mix it really well (remember to add the corn starch the last). If you think the mixture is too dry, add fish sauce, do not add water. If it is too dry, add corn starch.
To make the siomay, using a teaspoon, take one teaspoon of the mixture at a time and place it in the middle of the wonton skin. Then fold the skin up to form a sack and pinch the side of it using fingers, let the top of it opened to air contact. Do it again and again for half of the mixture. Use the other half to fill the bitter melon. Steam all of them for 30-45minutes.
To serve, arrange some of the siomay, bitter melon, potato, tofu, cabbage, and egg in a plate. Then pour the peanut dressing on top. Add sweet soy sauce and hot sauce as you wish. Drizzle the lime juice over.