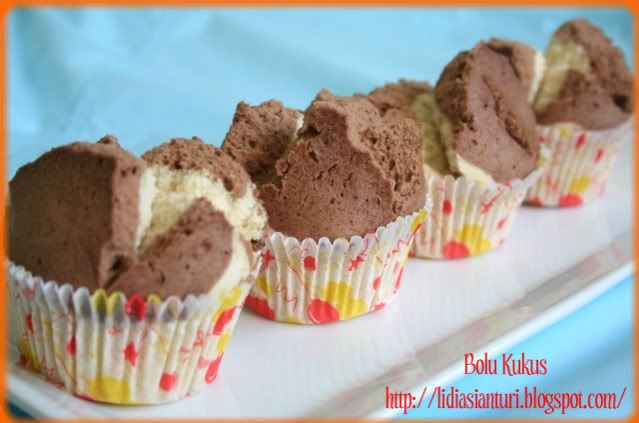 Every time my husband works afternoon shift, I feel like spending more times in my kitchen during the night while waiting for him to be home. And what I do is mostly making some snacks...and it is always fun to do it...
This time, I made steamed cup cake...this was the first time for me to make it myself...long time ago, I used to watch my mom making it. I copied the recipe from
Ayin's page
and modified it by adding vanilla.
I could not wait to see the result, and when I opened the steamer lid, I was so pleased with the result and leaping in excitement...
Thank you Ayin for sharing the recipe...
Ingredients:
-2 eggs (I used extra large size)
-250gr of sugar
-1Tbsp of ovalet
-200ml of soda drink/soft drink (I used Dr. Pepper)
-300gr all purpose flour
-1tsp coloring (I used 1Tbsp of cocoa powder)
-1tsp of vanilla
Directions:
Place eggs, sugar and ovalet in a mixing bowl and mix it well until stiff. Add flour and mix it again at lower speed until all distributed evenly, continue to stir even though you may feel it hard . Add the soda drink and mix it again. Add the vanilla and stir it again. Take out a quarter of it and transfer it in a smaller bowl, then add the cocoa powder and mix it well with a wooden spoon.
Prepare the steamer by heating it for at least 10minutes. Line the muffin tin with cupcake paper. Fill up 3/4 of the cup with the white dough and then top up with the cocoa dough. Steam it for at least 20minutes, do not open the lid during steaming. It is better to steam it in small quantity (I did steam 4cups for each 20minutes). Let it cool off on a wire rack, do not leave it on the muffin tin since it would get soggy.