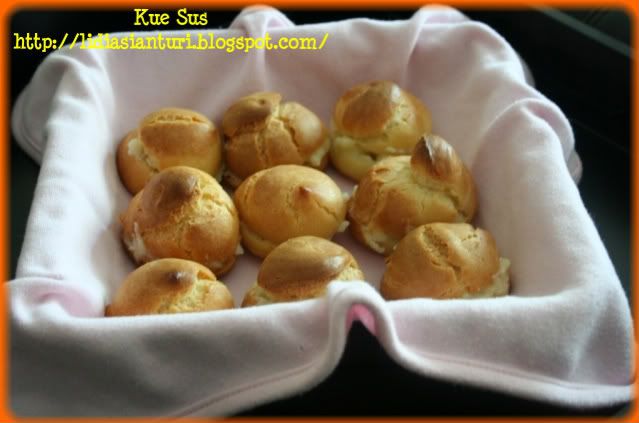 My husband loves these puff pastries and we normally got it from bakery shops in town. He loves the ones with Boston cream filling. I started to love them too. And definitely these were what I made as soon as I got a new mixer.
The recipe of the skin is copied from
Judith's page
(Thank you bucil for sharing the recipe and for encouraging me that I can do it!), and the filling I got it
online
but then I modified it.
Ingredients:
For skins:
-150ml fresh milk
-100ml water
-80gr margarine
-1/2tsp of salt
-1tsp of sugar
-180gr of all purpose flour
-4 eggs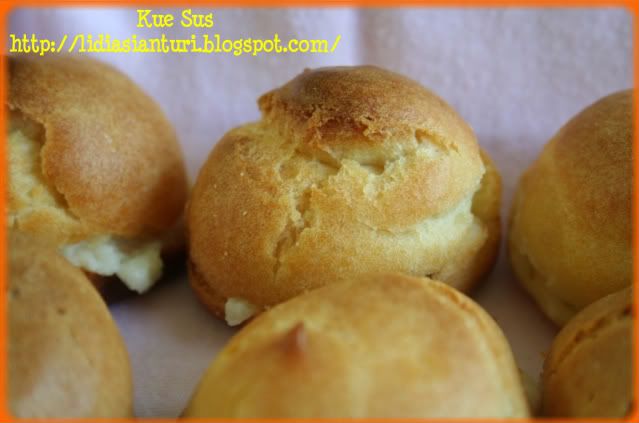 For filling (modified by me):
-135gr sugar
-500ml fresh milk
-1/2 vanilla bean (I used 2tsp of vanilla)
-30gr of corn starch
-5 egg yolk (I used 4)
-3Tbsp of butter (I used margarine)
In a pot bring to boil water, milk, margarine and salt and then turn of the stove as soon as it is boiled. Add the flour little by little and stir well until smooth and does not stick. Keep it aside until it is cooled. When it is cool enough (room temperature is fine), add eggs one by one and keep on stirring. Preheat the oven at 350F for 5-10minutes. Using pipping bag and tip, place the dough on a tray which has been layered with some margarine, gives enough space in between. Bake it in the oven for 30minutes at 350F. Do not open the oven door before it is done. Cool it down on a wire rack. The recipe is good to make 15 medium size puff pastries.
To make the filling, in a pot, cook and stir with a wooden spoon sugar, 375ml milk and vanilla under low heat, until dissolved. Gradually turn up the heat. Meanwhile, put cornstarch in a bowl and whisk in 125ml of milk until smooth. Add egg yolks and whisk again until blended. Slowly pour the hot milk mixture into the yolk mixture and stir it well with a wire whisk. Transfer it back to the pot and cook and stir it under medium heat until boiled. When it is boiled, turn off the stove, add the margarine and stir it instantly. Keep it in a fridge.
To serve, cut the skins in the middle and then fill it out with the filling.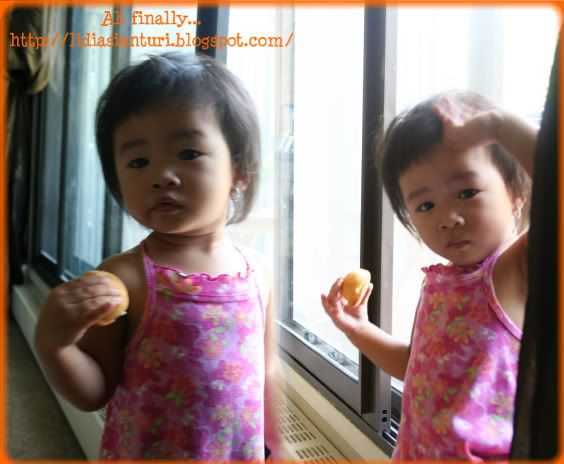 When I was trying to take pictures of these pastries, my little girl was around and she was busy trying to help me with the photo taking. But instead of helping, she was disturbing me by picking up one of the pastries (and I kept putting it back) or positioning her body to prevent the natural light, so I would not get enough light to take good pictures. I was trying hard to keep her away, but what can I do with that little innocent face? So as I did the photo taking quickly (you may notice a slightly blur picture..), I handed in one of the pastries to her...she was so happy to lick the filling and eat it all up.