Inspired by one of
Mindy's posts
and since I got some banana leaves in my freezer, last week I made this steamed beef. To be honest, Balinese recipe sounds too complicated for me...that's why I did not make that
Tum Sapi
, but this botok. Thx for inspiring...Min...
Ingredients:
-400gr of ground beef
-1/2can of coconut milk
-3 eggs
-12 Indonesian bay leaves
-banana leaves and tooth picks for wrapping
To be crushed in a chopper/grinder until smooth:
-12 chili paddy or bird's eye chili
-3 cloves of small red onion
-8 cloves of garlic
-1tsp of kencur
-4cm of galangal
-5candle nuts
-salt
-sugar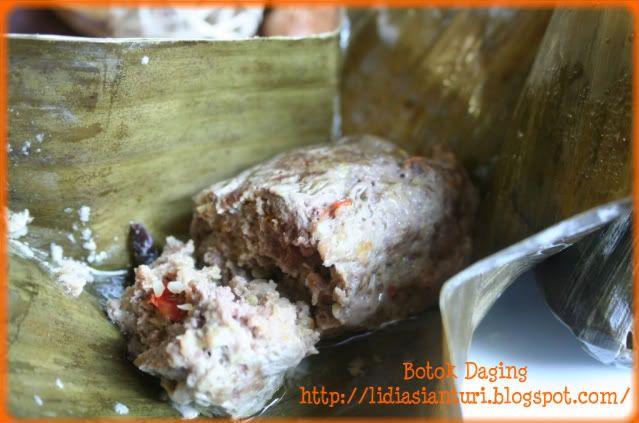 Directions:
In a mixing bowl, mix well all of the ingredients and the smooth spices except bay leaves and wrapper. Then place 1 bay leaf on banana leaf and top it with 2-3Tbsp of the mixture. Wrap it the way you see on the first picture and seal with a tooth pick.
When all is done, steam it in a steamer for 45minutes. Eat it with warm steam rice.