I used to have this meal when I was going to a university in Yogyakarta, Indonesia. It was sold on street stalls. Normally they do not only sell it, they also sell deep fried chicken, pigeon, etc. Last week I was craving for it and decided to prepare it myself.
Ingredients:
- frozen cat fish (available at Asian stores)
- 4 cloves of garlic
- 1Tbsp of ground coriander
- salt
- water
- oil for frying
To make
sambal
/chili paste:
- 4 cloves of garlic
- 3 cloves of small red onion
- 12 chili paddy
- 1 tomato
- 1tsp of shrimp paste
- 1Tbsp of palm sugar
- salt
- frying oil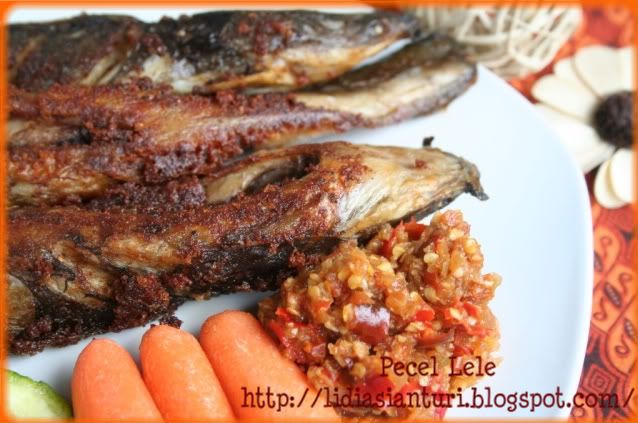 Directions:
I like to buy cat fish which was cleaned before, so I do not need to clean it myself. In a chopper, crush garlic until smooth and then transfer it into a big container. Add coriander, salt and water (app. 250ml) and mix it well. Marinate the fish in it at least for 30minutes (you may make a shallow cut on its stomach, so that the spice will immerse quickly).
Deep fry it in hot oil under medium high heat until brown and crunchy.
To make chili paste: place all of the ingredients in a microwaveable bowl and microwave it for 2min. Then transfer it into a chopper and crush until smooth.
Eat it with warm steam rice and some fresh veggies. You may add some sweet soy sauce into the
sambal
if you like.