Getting bored with rendang and other spicy recipe, this time I made sweet spiced beef and added with some tempeh and tofu. This meal came from central Java I guess, since the dominant taste is sweet. But it took us several days to finish it up.
Ingredients:
- 800gr beef flank, boil in water until tender and cut into small cubes
- 3 blocks of tofu, cut into 8 pieces each, deep fry it until half-cooked
- 1 block of tempeh, cut into 24 pieces, deep fry it until half-cooked
- 1/2 can of coconut milk
- 4 cloves of small red onion
- 8 cloves of garlic
- 5 candle nuts
- 1tsp of seedless tamarind
- 1 block of palm sugar
- 3 Indonesian bay leaves
- 4cm of galangal, cut into 2
- 2tsp of ground coriander
- 1tsp of ground cummin
- salt
- sugar
- oil for saute
- water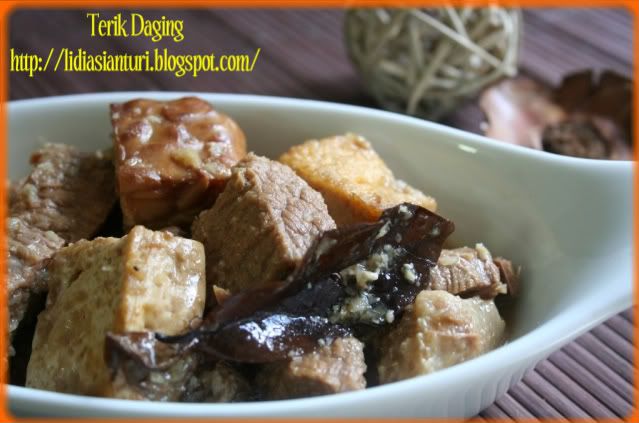 Directions:
In a blender, blend onion, garlic, candle nuts and tamarind with a little bit of water until smooth. Saute it with a little bit of oil in a pot until fragrant. Add bay leaves, galangal, coriander and cummin and continue to saute for another 2minutes. Add cooked beef, fried tofu and tempeh and then some broth. Cook until boiling. Add coconut milk and palm sugar. Stir it will until all the palm sugar dissolved. Adjust the taste with salt and sugar. Cook until boiling again and the water decreased by half and then turn of the heat. Serve it with warm steam rice.