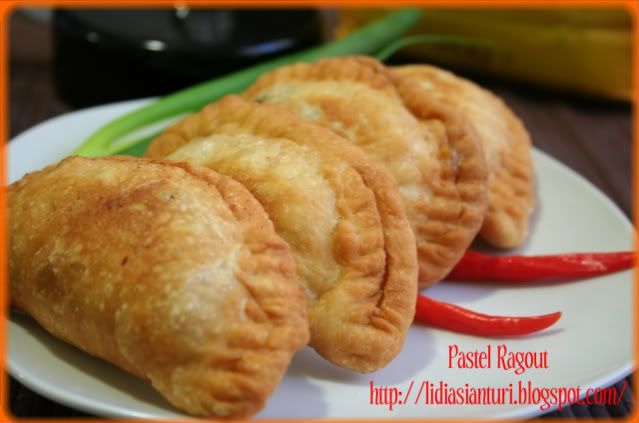 I may say that fried puff pastry with ragout filling is my forever favorite snack since I was a little kid. My mom used to make it for us, but often we just bought it from food stalls. For the skin, again I copied the recipe from
Ayin's page
, but for the filling I just made it on my own style. When I made the skin, there was an accident..I poured too much water and the dough was too watery, so I added some more flour...but then I was worried if it would turn too hard or chewy, so I added more margarine and egg...I spent the whole night preparing the dough, keeping it in the fridge and continued the next morning still struggling with sticky dough...Almost giving up, then I used my own hands for kneading for hours...Thank goodness I was able to save the dough from sitting in my garbage bin...
Ingredients:
-oil for deep frying
To make skins:
-300gr of all purpose flour (at the end I ended up with no measurement..)
-1egg (I used 2)
-1/2tsp of salt
-1/2tsp of chicken broth powder
-water as needed
-50gr of margarine (I used 80gr soft margarine)
To make ragout filling:
-1 whole chicken leg, boil in water and shred the meat and cut into small cubes, keep the broth
-2 carrot, peel of the skin and cut into small cubes
-2 potato, peel of the skin and cut into small cubes
-4 cloves of garlic, chop thinly
-1cloves of small red onion, chop thinly
-2 green onion, chop thinly
-150ml of fresh milk
-150ml of chicken broth
-2Tbsp of all purpose flour/wheat flour, dissolve it in water
-1tsp of ground white pepper
-salt
-sugar
-oil for saute
Additional filling:
-4 boiled eggs, cut into 4 pieces each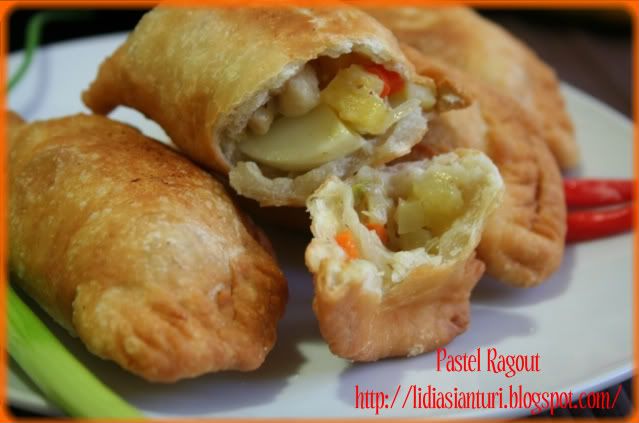 Directions:
Mix well all of the ingredients for making skins with a mixer until smooth. Keep it aside for 30minutes and cover it with plastic wrap so that it would not get dry.
While waiting make the ragout filling by saute garlic and onion until fragrant. Then add cut carrot, potato and chicken broth and cook until done. Add chicken meat, salt, pepper and sugar and stir it well. Add the milk and continue to cook until boiling. Add green onion and then the wheat flour mixture and stir it instantly until thicken.
Continue working on the skins by kneading the dough until it does not stick. Flatten the dough on a cutting board and then cut into circle forms. Fill it up with ragout filling and a quarter of boiled egg. Then fold the skin to form half circle shapes and fold and press the margin. Otherwise you may use a fork to press the margin. When all is done, heat up some oil and deep fry the pastries under medium high heat until golden brown, flip it over once. Place them on a paper towel to dry up the excessed oil. Serve it warm with some fresh chili or chili sauce.