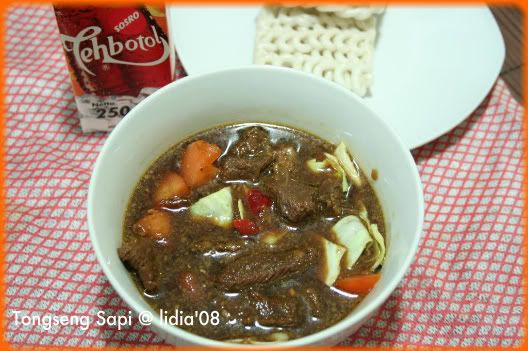 My husband bought a big chunk of meat, a-cut-it-yourself kinda sirloin steak two weeks ago. When he got home, I did not want to keep it frozen as whole, beside it would not be fit in my freezer. Thus, I cut it into four portions and place it separately in four freezing bags. I was able to separate the very lean meat from the fatty, two bags of cut lean meat and another two of fatty ones. I had cooked the very lean into
beef rendang
and
Batavian beef semur
.
Now for the fatty one, I decided to make
tongseng
. Normally in Indonesia,
tongseng
is made of goat meat. As for me using beef meat does not eliminate the
yumminess
though...
See the recipe
here
. This time, I added some freshly cut cabbage to the soup just before serving and some Indonesian crackers at the side.