I have stocked up some foods in fridge due to bad weather since last week. My husband loves chicken and beef, thus those are mainly what we have at home. This time I wanted to have something warming to balance the cold weather which we have been having, but not spicy/hot since my stomach has been so sensitive toward chili. So I put more ginger to the chicken and it worked wonderfully.
Ingredients:
- 10 chicken drumsticks, deep fry until brownish and crunchy
- 1 clove of onion, chop thinly
- 6 cloves of garlic, chop thinly
- 2x4cm of ginger, crack it with pestle
- 2Tbsp of fish sauce
- 4Tbsp of Indonesian sweet soy sauce or more
- 1tsp of ground white pepper
- water
- oil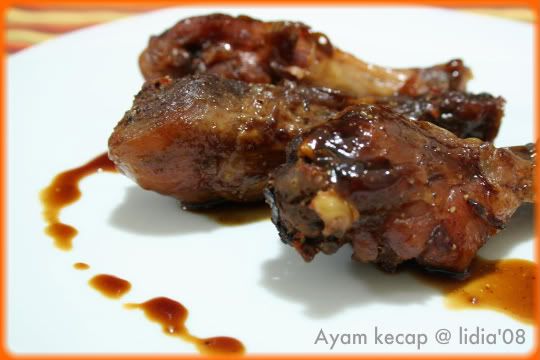 Directions:

In a pan, saute chop onion and garlic until dry. Add ginger and continue to saute for 1minute. Add fish sauce, water (app. 150ml), pepper and soy sauce and stir it well. Put in fried chicken drumsticks. Stir it evenly and let the seasoning immerse for 5minutes.
Serve it warm with steamed rice.