We love to do bbq-ing, even during winter and Korean style is one of our favorites. This time I used short ribs and marinated it with Korean bbq sauce and grilled it in an oven. The aroma of burnt and the sweetness of the juice is a perfect combination.

Ingredients:
- 8 cut of short beef ribs
- 100ml of rice cooking wine
- 3Tbsp of granulated white sugar
- 250ml of Korean bbq marinating sauce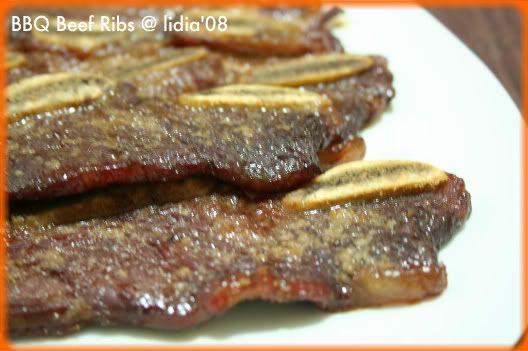 Directions:
Mix well sugar and cooking wine in a big container. And then add the marinating sauce and stir it well. Marinate the ribs in it for at least an hour in the fridge, the longer the better (I prefer to do it overnightly). Grill it in an oven at 350F for 30min, flip it over in the mid way.
Serve it hot with baked potato and salad.