Sometime I found it so hard when it comes to name foods in English. Simply because I do not know it or I can not differentiate it from other similar foods. Just like this one, I know how to name it in Indonesian, but had difficulty in finding the English name. Luckily I had
Rita
who was willing to discuss this matter and was happily answering my stupid questions (
thanks Rit!
) and of course thank to google and internet connection so that I found the name in English. Yes, it is called
wiener winks
, I wonder how it gets its name...maybe it looks a bit sassy...the wiener sausage is winking...again I wonder to whom?
Enough about the name, now about why I made these...Having some white sandwich bread in the fridge and hearing my husband complaining about it almost every day push me to get rid of it the soonest. So on that day, early morning two weeks ago, I just prepared it for breakfast. My Bianca loves it...
Ingredients:
- 4 sandwich bread
- 4 wiener chicken sausage, boil or microwave it until cooked
- 2 egg, lightly beaten
- 1Tbsp of margarine

Directions:
Dip the bread into the beaten egg until it is soaked and wet. While doing it, prepare a frying pan by greasing it with margarine and then heating it. Place one sausage in the center of bread lengthwise and then roll it. Fry the rolled bread under medium high heat until golden brown. While frying, press the bread with wooden spatula/turner so that it will stick.
To serve, cut the roll about 1.5cm in thickness.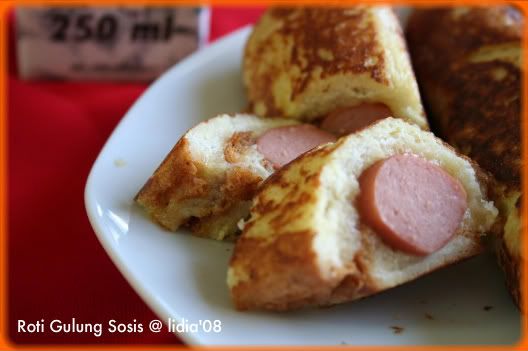 note: We like to eat it with Indonesian hot sauce.