While chatting with
Deetha
, all of a sudden I was craving of this special soup called
Bakwan Malang
and so was her. Yes, it has been 3 years I am away from my home country...missing the people and foods as well. Since we wanted it badly, we agreed to prepare it in our own kitchen and then posted it at the same time. I made this soup more than a week ago but this afternoon I just realized that today is the due date to post it (of course after reading her message on my shoutbox). So here is my version...
Ingredients:
- beef meat balls (bought them from Asian store in town)
- boiled and fried beef and shrimp wonton (see the recipe
here
)
- steamed stuffed tofu (see the recipe
here
, instead of frying it, steam it)
- boiled egg noodle
- boiled rice vermicelli
- boiled
caisim
/mustard green
- preserved cabbage (
tongcai
)
Optional:
- fried onion
- chopped green onion
- chili sauce
- sweet soy sauce
To make soup:
- 1lb of beef bones
- 6cloves of garlic, crack it with pestle
- 4cm of ginger, crack it with pestle
- 2L of water
- 1 beef broth cube
- 1Tbsp of sesame oil
- 2tsp of ground white pepper
- salt
- sugar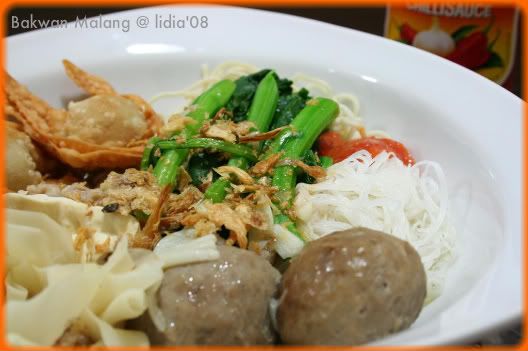 Directions:
In a big pot, boil beef bones in 2L water until boiling. Add beef balls into the broth. Add beef broth cube, salt, sugar and pepper. Continue to cook for another 10min. Saute garlic and ginger with sesame oil and then add them all to the broth.
To serve in a bowl, place the noodles first, and then vegetable, wonton and tofu. Pour the soup and beef balls on top of it. Sprinkle some preserve cabbage and fried onion. Add some chili sauce if you like it spicy and sweet soy sauce to make it richer. Serve while it is hot.