I had some good friends coming over late in the evening last week. And since I did not receive any notification about their visit ahead of time, I did not prepare some foods for nibbling. I only had some fruits in my fridge. But it was kinda boring just to serve whole fresh fruits, despite the fact that I did not have much fruits left. So I just made this dessert (they said they had have dinner already). Thought if I mixed them I would have enough for every body...

Ingredients:
- 3 Royal gala apple
- 3 tangerine orange
- half of cantaloupe
- bunch of green grapes
- 5Tbsp of sugar
- 80ml of water
- 1 lime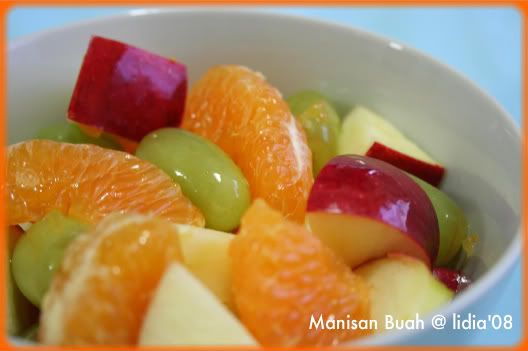 Directions:
Wash and cut apple and cantaloupe into bite size. Peel off the skin of orange. Wash the grapes. Place all of the fruits in a big bowl. Meanwhile, pour water and sugar in a microwaveable bowl and microwave it for 1minute. Stir it well until all the sugar dissolved. Drizzle the lime juice and mix it well again. Pour the solution into fruits and mix it. Keep it in the fridge for an hour or longer. Serve it cold. You may add other fruits as you like.