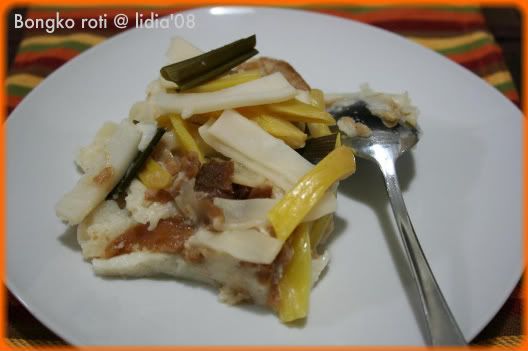 Still with left-over pictures from last year...
I used to have this food as snack during my childhood, my mom used to make it for us. But it has been a long while and it was almost forgotten, until one day I came across
cie Ine's page
which shares the recipe of it. She called it
pisroti
, however I am more familiar with the term "
bongko roti
". Anyway...basically it is the same thing. So here is the recipe...
Ingredients:
- 2 pieces of sandwich bread, cut into 8 each
- 1/2 can of young coconut meat
- 1/2 can of jackfruits, slice it
- 2 pandan leaves, cut into 3cm in length
- 800ml of light coconut milk (I used 1 can of coconut milk, plus 1glass of water)
- 100g of sugar
- dash of salt
- banana leaves for wrapping
Directions:
Dilute the sugar and salt with coconut milk and water and stir it evenly. Place a piece of pandan leaf, 2 cuts of sandwich bread, 1Tbsp of coconut meat, 1Tbsp of jackfruits and 100ml coconut milk on a wide piece of banana leaf. Then wrap it and seal it with a toothpick (
see this picture
). Do it over and over until all done. Steam them for at least 20minutes.
Note: Cie Ine suggested to serve it cold but I prefer to eat it warm.