My husband likes to play billiard games with his friends and usually he gets something for munching during those fun times. His choice goes to Buffalo chicken wings as always. One day he went grocery shopping and brought home some chicken wings and special hot sauce and asked me to make them at home. I browsed around on the internet and found various recipes on Buffalo chicken wings. However they mainly have the same basic ingredients.
As I prepared them, I was also online chatting with
Deetha
and we agreed to post the same item on the same day. So here it is my homemade Buffalo chicken wings...
Ingredients:
- 15 chicken wings, cut into 2 each
- 3cloves of garlic, crush until smooth

- 1 package of kobe seasoning flour
- 3Tbsp of rice flour
- 1Tbsp of ground coriander
- 1Tbsp of ground black pepper
- 1tsp of salt
- 30ml of water
- oil for frying
- Red hot chicken wings sauce (see the picture below)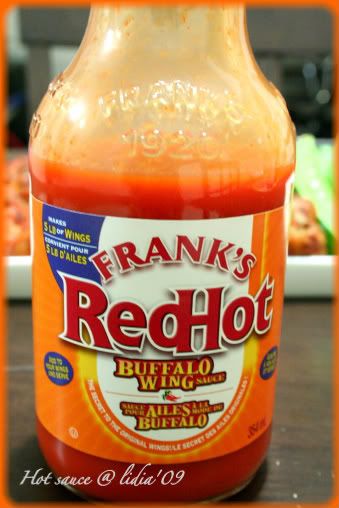 Directions:
Mix well all of the ingredients except oil, hot sauce and the wings. Then batter the wings in it for at least 10minutes. Deep fry it using oil under medium high heat until golden brown and crispy. Drain off the excesses oil using paper towel. Then in a saucepan, heat the hot sauce for 2minutes and then transfer the fried chicken wings in it. Continue to heat it up and flip over once in a while. Serve it warm with mayo or ketchup and fresh salad, as for us, we like to have it with celery, carrot and ranch dipping