It was all begun when I chatted with
Mel
back in December 2008...She really really convinced me to try out the recipe which was originally from
NCC
. I had never made these ananas tart before, so I was anxious yet worried if failed. The fact that there is no pineapple jam available for purchasing changed me from being lazy to eagerly-happily doing it. So, just a day before Christmas, I prepared these yummy tarts. It took me hours to make them, but they were gone in no time meaning they are 100% delicious....(happy to share them with friends and neighbor though...)
Ingredients:
For Tarts:
- 250g margarine
- 250g butter
- 100g very fine granulated sugar
- 4 egg yolks
- 700g all purpose flour
- 4Tbsp full cream milk powder (I was using baby formula)
For glazing: mix well
- 3 egg yolks
- a little bit of fresh milk
For filling:
- 4 ripe pineapple (I used 3can of cut pineapple in sugar solution)
- 200g granulated sugar (I did not measure it since the pineapple from the can is already sweet)
- 1tsp of salt (I skipped this)
- 1 cinnamon stick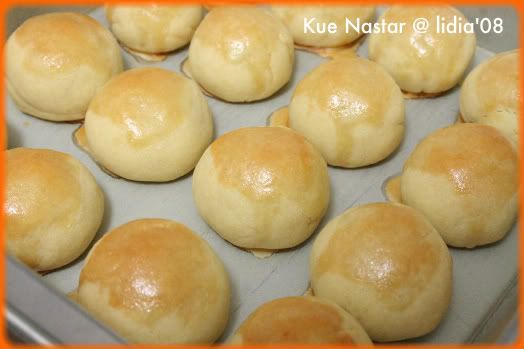 Directions:
To make filling:
Discard the sugar solution from the can and cut the pineapple into 4 (I used the round cut ones). Crush it in a blender until smooth. Transfer it into a pan, add the cinnamon stick and cook until boiling. When it starts boiling, stir it vigorously until it is sticky and has limited water content. Add sugar and taste it. Continue to stir until you get the preferred consistency (firm jam-liked one). Keep it aside.
To make the tart:
In a mixing bowl, mix margarine, butter, sugar and egg yolk at low speed for about 2minutes (do not mix too long since it will make the dough too dry). Add flour and milk powder and mix well again using a spatula.
Take a little bit of the dough, make a ball with palm of hands. Flatten it and add the filling (app. half of tea spoon). Roll it back to a nice ball shape. Do it again and again for all the dough. Place them on a cookie sheet, give some space among them. Bake them at 140C for 30minutes. Take them out of the oven and brush with the glazing mixture. Put them back into the oven and continue to bake for another 5-10minutes. Take them out and let them cool off. Place them in a cookie jar with an air-tight lid.