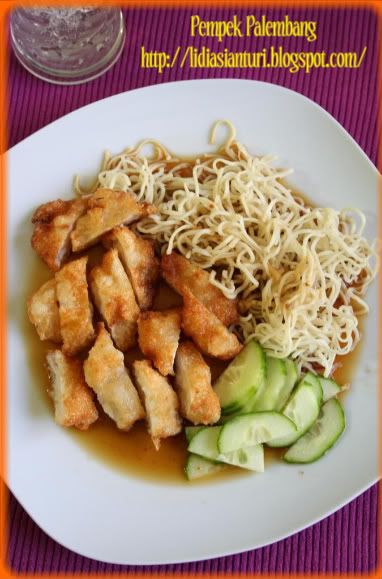 I got some fish paste in the freezer and decided to make this traditional fish dumpling from Palembang. Found the recipe
here
. It turned out to be too liquidy when I followed exactly every thing in the recipe. It may because I used frozen fish paste which already been added with some other ingredients like potato starch and salt, whilst the original recipe uses fresh fish meat. Fortunately I still managed to safe the dough even though I was not able to form good shapes with hands, so I just used spoon. Anyway, next time I should consider to reduce the amount of water that I use to make it.
Ingredients:
- 50gr all purpose flour
- 500ml water
- 2 cloves of garlic, crush
- 500gr of fish meat/fish paste
- 3tsp of salt
- 2tsp of sugar
- 350gr of tapioca flour
- 2.5lt of water for boiling
- 1Tbsp of vegetable oil
To make sauce:
- 50gr tamarind
- 150gr of palm sugar
- 700ml of water
- chili paddy/bird's eye chili, crush (as much as you like)
- fermented cabbage/tongcai ( I skipped this one)
- 1clove of garlic, crush
- 3Tbsp of dried shrimp/ebi
Side dishes:
- egg noodle, boil and drain
- freshly cut cucumber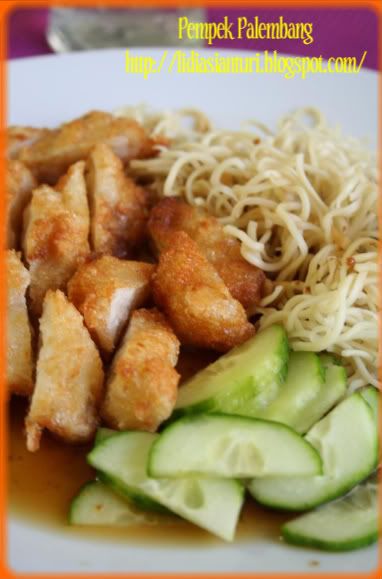 Directions:
Mix well flour, water and crush garlic in a pot and then bring it to boil and stir it constantly until thicken. Put it aside and let it cool. Add fish paste, salt, sugar and tapioca flour and mix it well until it does not stick. Form shapes as you like (cylinders, balls, etc.).
Prepare a pot filled with water for boiling the dough. Add the vegetable oil in the boiling water. Boil the dough which has been shaped in that pot. Once it is floating, take it out and place it in a container. Then deep fry the boiled dough with frying oil until golden brown.
To make the sauce, boil tamarind, water and palm sugar. Add crushed chili, garlic and dried shrimp. Continue to cook until boiling again.
To serve, cut the fried pempek and place it in a plate. Add noodle and cut cucumber at side and then pour the sauce over.