My husband loves these steamed cupcake and has asked me so many times to prepare it. But since I do not have the mold, I kept saying no. Then it came the time when I felt like making it for him, and I just used muffin tin for molding. The look was not as great though, but the taste was delicious.
Ingredients:
- 250gr of all purpose flour
- 225gr of sugar
- 4 eggs
- 130ml of coconut milk
- 1Tbsp of ovalet
- 2 drops of pandan paste
- 150gr of salted shredded coconut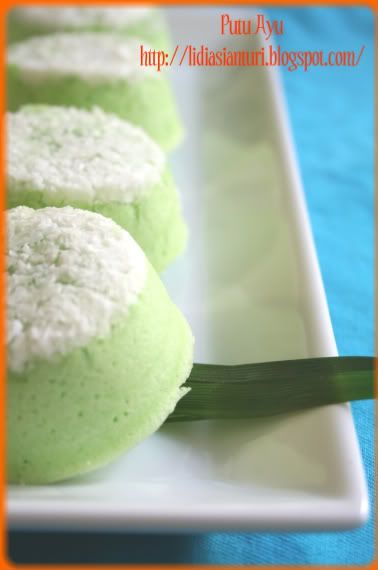 Directions:
Using a mixer, whisk egg and sugar until thick. Add the ovalet and continue to mix it until white and fluffy. Alternately add coconut milk and flour while mixing it at a lower speed. Add pandan paste and mix it well. Prepare the muffin tin by spreading some vegetable oil. Place a Tbsp of salted shredded coconut in the bottom of the muffin tin and top it up with the dough. Steam it for 40minutes. Let it cool off and take it out of the mold.