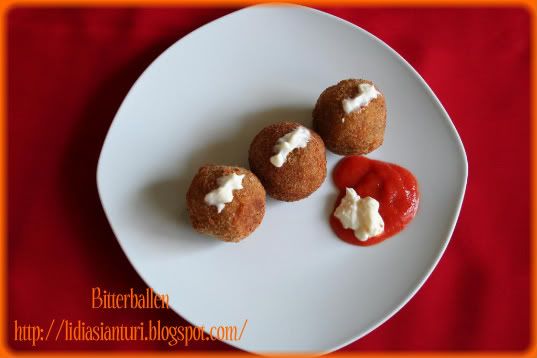 My first encounter with bitterballen was back in year 2001 when one of my colleagues brought it for our office meeting. Then I tried to make it myself at my kitchen in Indonesia. Before we moved to Edmonton, our good friend in Montreal invited us for farewell dinner and she prepared these bitterballen for snacking. Her husband is from the Netherlands, as it is known bitterballen is a savoury Dutch snack, therefore the taste of it was so authentic. Christian loves it and been asking me to make it. This time, I copied the recipe from
cie Ine's page
. Thank you cie Ine for sharing the recipe...
Ingredients:
- 100gr margarine
- 1 clove of onion, chop thinly
- 150gr all purpose flour
- 350ml fresh milk
- 250gr ground beef
- 1Tbsp of Maggi seasoning (I replaced it with 1block of chicken broth)
- 100gr bread crumbs
- 2egg, whisk briefly
- salt
- ground nutmeg
- ground pepper
- sugar
- frying oil
I added: 2Tbsp of cheez-whiz spread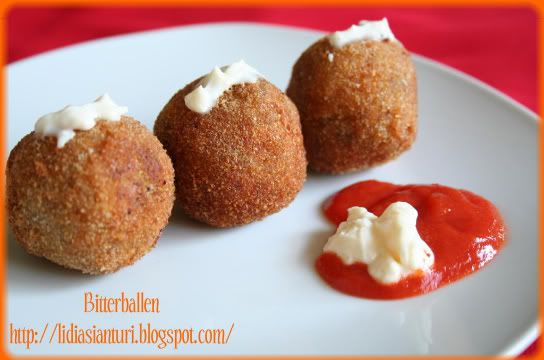 Directions:
In a wok, saute the ground beef until brown. Add chicken broth and stir it well. Keep it aside. Saute onion with margarine until fragrant. Add flour and stir well. Add milk and stir instantly. Add cheese, salt, pepper, nutmeg, sugar and then beef. Stir it well and turn off the stove.
Make small balls out of the dough and roll on bread crumbs. Then dip into whisked egg and again roll on bread crumbs. Deep fry it in hot oil under medium high heat until golden brown.
Serve it warm with mayo, mustard or hot sauce.