It was late at night when I was going to make brownies for my little girl and her dad. It's supposed to be baked for 45minutes, but I left it for a longer period of time whilst taking shower. The brownies turned out to be too hard and chewy and seems like no one would ever touch it nor eat it. Therefore the next day, I just prepared agar pudding and dipped the hard brownies into it while the agar was still hot so that the liquid immersed to the brownies and magically made it edible and soft...and it worked! I did not have to chuck it into garbage...
Ingredients:
To make brownies:
- 160gr of semi-sweetened cooking chocolate
- 75gr of margarine
- 2 eggs
- 200gr of sugar
- 1tsp vanilla essence
- 100gr of sliced almond
- 100gr of crushed peanut
- 150gr of choco chips
- 200gr of all purpose flour
- 1/2tsp baking powder
- salt
To make pudding:
- 1 package of clear/transparent agar powder
- 400ml fresh milk
- 350ml cold water
- 4Tbsp of sugar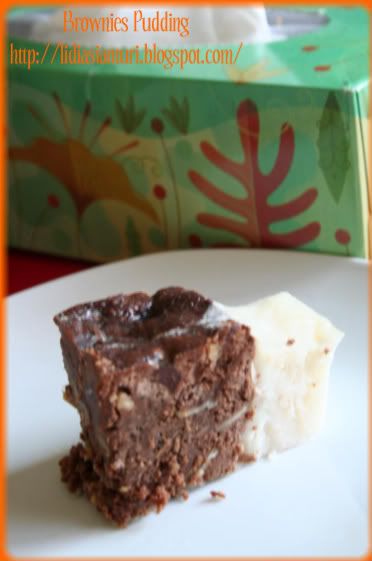 Directions:
To make brownies:
Cook chocolate and margarine in a pot and stir it until melted. Turn off the stove and let it cool down. Mix egg, sugar and vanilla essence in a mixing bowl with a mixer under medium high speed until thick and fluffy. Add the cooked chocolate and mix it well. Add flour, baking powder and dash of salt, mix it well. And then add almond, peanuts and choco chips. Transfer it into a baking pan which was layered with margarine and flour before. Bake it for 45minutes at 350F.
To make pudding:
Mix well water, milk and the agar powder. Place it on top of stove and cook and stir until boiling. Add sugar, stir and turn of the stove.
To finish up:
Place the brownies in the center of mold and then pour the hot agar mix on it. Keep it in a fridge until it is harden.
Slice it as you like and serve it cold.