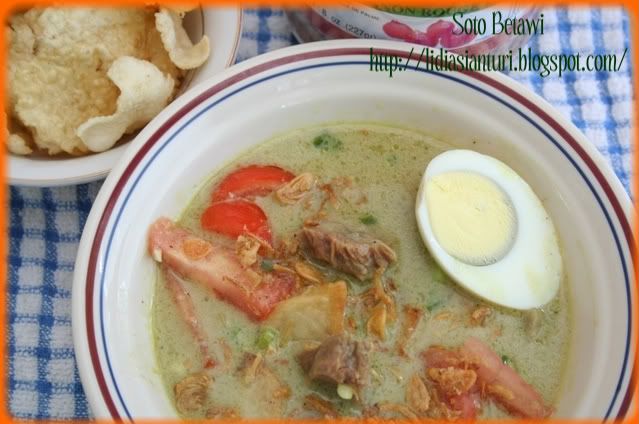 This was a request from my husband, since he missed it so much. And it was the first time for me to make it from scratch, no instant seasoning added. Many recipes I found from the Internet, but it seemed too complicated for me, so I just simplified it.
Ingredients:
- 750gr beef flank, cut into small cubes
- 8 cloves of garlic
- 6 cloves of small red onion
- 4cm of ginger
- 4cm of galangal
- 6 candle nuts
- 1 lemon grass, cut into 4cm in length, crack it with pestle
- 4 Indonesian bay leaves
- 4 lime leaves
- 1tsp of ground turmeric
- 1tsp of ground white pepper
- 1tsp of ground coriander
- 1can of coconut milk
- water
- salt
- sugar
- oil for saute
Side dishes:
- tomato, cut into 8
- green onion, chop thinly
- fried onion
- fried melinjo crackers
- fried potato
- boiled eggs
- lime juice
- crushed chili
Directions:
In a blender, blend garlic, onion, ginger, galangal and candle nut until smooth. Then saute it with a little bit of oil in a pot until fragrant. Add the rest of the ingredients, except the meat, coconut milk, water, salt and sugar, and continue to saute for 2minutes. Add the beef and stir while cooking until changed color. Add water (app. 1.5lt) and continue to cook until boiling and the beef tender. Add coconut milk and stir it instantly. Adjust the taste with salt and sugar and continue to cook until boiling again.
To serve, in a bowl, place fried potato, cut tomato, and half of boiled egg. Pour the soup with meat over it. Sprinkle some fried onion and chopped green onion. Add crushed chili and some lime juice. Add melinjo crackers at the side. Eat it while it is hot.