On one of my hectic days, when we were still staying at our friend's town house, I had to prepare something for our lunch, but it should be in blink of eyes as I did not have much time to spend in the kitchen. Safe by canned food...!! Luckily I stocked up some cans of sardines. But we do not normally eat canned food straightly from the cans..we normally add something else and cook it.
So this is what I did to my canned sardines...
Ingredients:
- 1 can of sardines in tomato sauce
- 4 cloves of garlic, chop thinly
- 3 cloves of small red onion, chop thinly
- 6 chili paddy or bird's eye chili
- 1 tomato
- 4cm of ginger, cut thinly
- 3 potato, peel off the skin, cut into small chunk
- salt
- sugar
- oil for frying
- water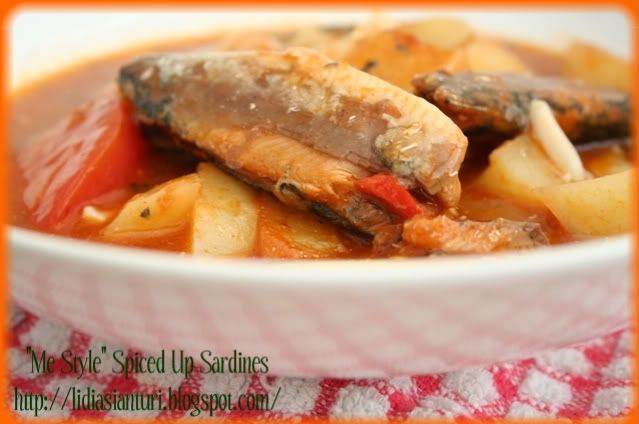 Directions:
In a frying pan, fry cut potato with oil until brownish. Put it aside.
In a pan, saute garlic, onion and chili with a little bit of oil for 2minutes. Add ginger and tomato and continue to saute for another 2minutes. Add some water app. 100ml. Continue to cook until boiling. Add the sardines with all the sauce. Continue to cook until boiling again and stir occasionally. Adjust the taste with salt and sugar. Serve it warm with steam rice.