I made this veggie menu to eat with the spicy mackarel which I've previously posted. Quite simple yet tasty.
Ingredients:
- bunch of water morning glory, wash and cut into 7cm in length
- 3 blocks of tofu, cut into small cubes, fry until half cooked
- 150gr of beef, cut thinly
- 3Tbsp of blackbeans sauce
- 6 cloves of garlic
- 3 cloves of small red onion
- 8 chili paddy or bird's eye chili
- sugar
- oil for saute
- water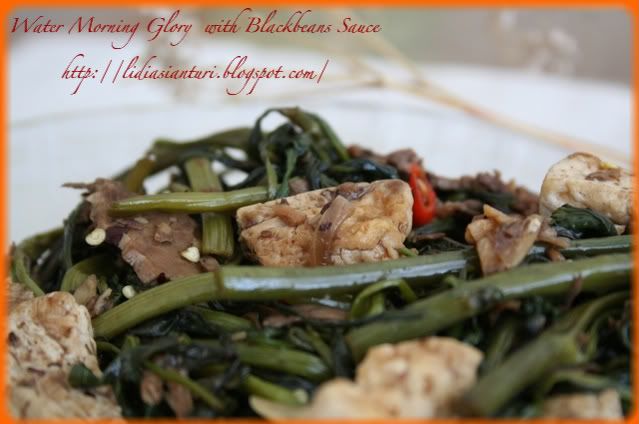 In a wok, saute garlic and onion until fragrant. Add the beef meat and cook until changed color. Add chili and blackbeans sauce and continue to cook for 2minutes. Add a little bit of water as needed. Stir it well. Add water morning glory and stir it to distribute the heat evenly. Add fried tofu and continue to cook until the veggie changed color. Adjust the taste with a little bit of sugar. Do not overcook, turn off the stove as soon as the veggie changed color.