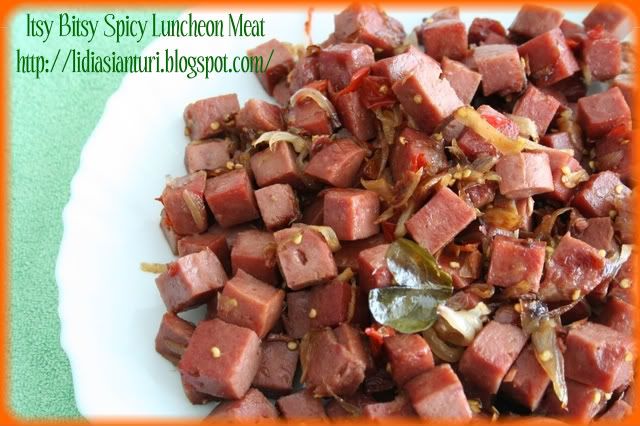 When I did not feel like spending much time in my kitchen, I just prepared the quick and easy meal. I saw one of my friend here cooking it the other day and we had a chance to taste it...hm..it was good. So I stocked up some cans of luncheon meat, in case of "emergency".
Ingredients:
- 2 cans of luncheon meat, cut the meat into small cubes
- 5 cloves of garlic, chop thinly
- 5 cloves of small red onion, chop thinly
- 10 bird's eye chili or chili paddy, chop thinly
- 4cm of galangal
- 4 lime leaves
- 1/2 of lime
- 2Tbsp of fish sauce
- sugar
- oil for saute
In a wok, saute garlic, onion and chili until fragrant. Add galangal, lime leaves, fish sauce and drizzle lime juice. Stir it well. Add a little bit of sugar to taste. Lastly, add the luncheon meat, cook and stir for 6minutes. Serve it with warm steam rice.