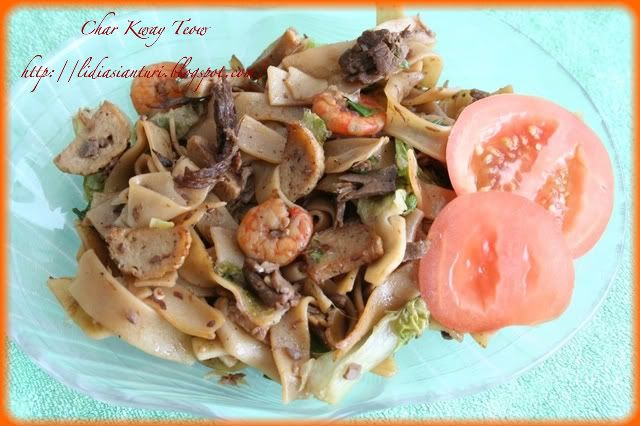 In order to use the roasted beef, I prepared this meal for my husband. And to be honest it was the first time for me to make this char kway teow....The result was good, but I think I should find another brand of rice noodle since the one I used was kinda dry after awhile. Anyway, I wanna share the recipe here...
Ingredients:
- 1 package of flat rice noodle
- 250gr of headless shrimp, peel of the shell
- 250gr of roasted beef
- 200gr of fish ball, cut into 4 each
- 6 cloves of garlic, chop thinly
- 5 cloves of small red onion, chop thinly
- 2Tbsp of sesame oil
- 1Tbsp of oyster sauce
- 2Tbsp of sweet soy sauce
- 3Tbsp of fish sauce
- 1tsp of ground white pepper
- a bunch of pak choi or caisim (
Indonesian-sawi hijau
), cut into 5cm in length
- 3 green onion, chop thinly
- water
- oil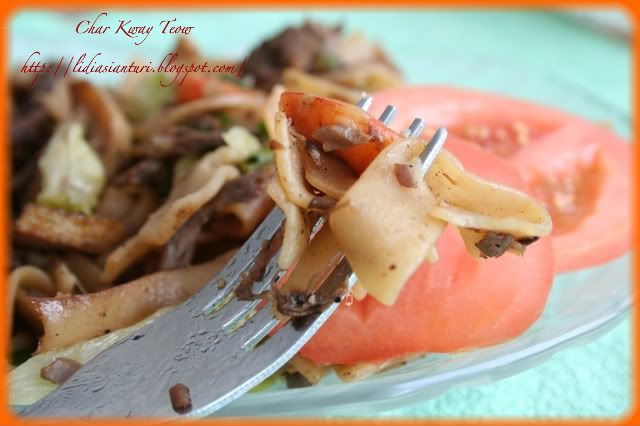 In a pot, boil some water and then cook the noodle in until tender. Drain off the water with a strainer and add some oil and immediately mix it well. Put it aside.
In a wok, saute garlic and onion with sesame oil until fragrant. Add shrimp, roasted beef and fish balls and continue to cook until the shrimp changed color. Add fish sauce, oyster sauce, sweet soy sauce, pak choi and pepper, stir it well. Add the boiled noodle and stir it well until all the seasoning distributed evenly. Adjust the taste with fish sauce and sweet soy sauce. At last add green onion and remove the wok from the stove.
To serve, sprinkle some fried onion on top.