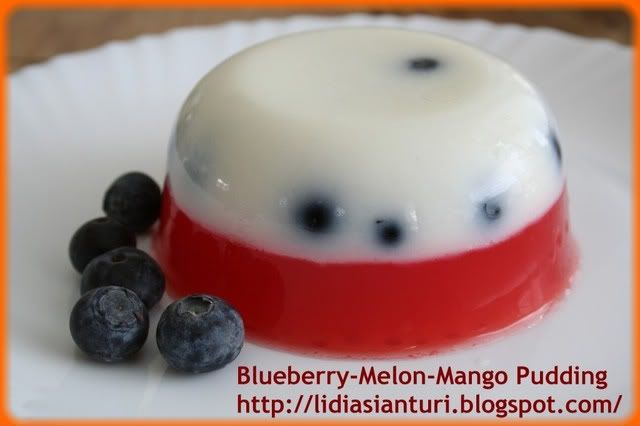 One of my new Indonesian friends here in Edmonton, asking me to make pudding, any kind of agar pudding. Since I got freedom to decide what kind of pudding I would make, I just dig out what I had in stock. I had fresh blueberry and also some melon-mango juice....hm..why not combine the two of them?
Ingredients:
- 2 packages of agar powder (red and transparent/clear one)
- 1 small bowl of fresh blueberry
- 600ml of melon-mango juice
- 500ml of fresh homogenized milk
- 100ml+200ml of cold water
- 9Tbsp+5Tbsp of sugar
Dissolve the clear agar powder with milk and 200ml cold water. Put it on top of a stove under medium high heat. Cook and stir it until boiling. Once it is boiling, add 9Tbsp of sugar and stir it until all sugar dissolved and boiling again. Pour in a molding bowl. Add the blueberry and keep it in fridge until harden.
While waiting, make the second layer using the red agar powder. Dissolve it with juice and 100ml cold water. Cook it as we did for the first layer. This time add less sugar (approx. 5Tbsp), since the juice is sweet enough. Pour it on top of the hard first layer and put it back to the fridge until harden.
Serve it cold and add some
vanilla sauce
if you like.