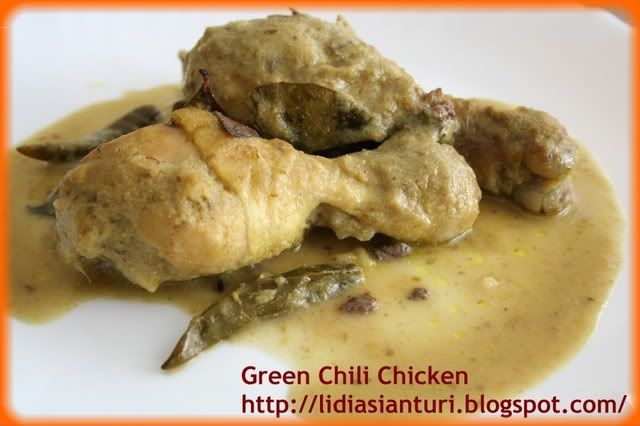 I made this chicken menu 2 weeks ago, the first week we arrived in Edmonton. Since I only did a little grocery shopping, I did not have much stuff in the fridge and chicken always become good choice for simple recipe. I think this menu originally came from Padang, West Sumatra Indonesia correct me if I am wrong..
Ingredients:
- 10 chicken drumstick
- 2tsp of tamarind, mix with half glass of cold water
- 10 small green chili
- 8 cloves of garlic
- 6 cloves of small red onion
- 1 lemon grass, cut into 4cm in length
- 4 lime leaves
- 4 Indonesian bay leaves
- 4cm of ginger
- 4cm of galangal
- 3cm of turmeric
- 1tsp of ground coriander
- 5 candle nut
- salt
- sugar
- 1/2 can of coconut milk
- water
- oil for saute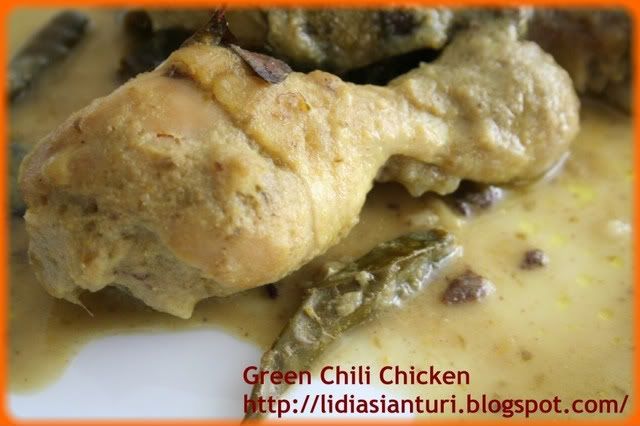 Marinate the drumstick with tamarind juice for 15minutes. While waiting, crush all of the ingredients except lemon grass, lime leaves, bay leaves, and coconut milk in a blender until smooth. In a wok, saute the smooth seasoning with a little bit of oil until fragrant. Add lemon grass, lime leaves and bay leaves and continue to saute for another 2minutes. You may add some whole chili if you like. Add the drumstick together with the tamarind juice and continue to cook until change color. Add coconut milk and a little bit of water and cook until boiling, stir it occasionally. Adjust the taste with salt and sugar. Cook until the chicken tender. Serve it with warm steam rice.