My husband and I really like silver pomfret fish, especially when it is grilled. Two weeks ago when doing some shopping at an Asian store I found these fish at good price. Thus I bought some and cooked them the next day. Here is my special recipe...

Ingredients:
- 6 silver pomfret fish, clean up the stomach cavity and make several cut on each side of the body
- 1 lime
- 5cloves of small red onion
- 8cloves of garlic
- 2 lemon grass, cut into 1cm in length for easy grinding
- 4cm of galangal
- 4cm of ginger
- 4 lime leaves
- 4 Indonesian bay leaves
- 6 chili paddy or bird's eye chili
- 1 tomato
- 5 candle nuts
- 100ml water
- salt
- sugar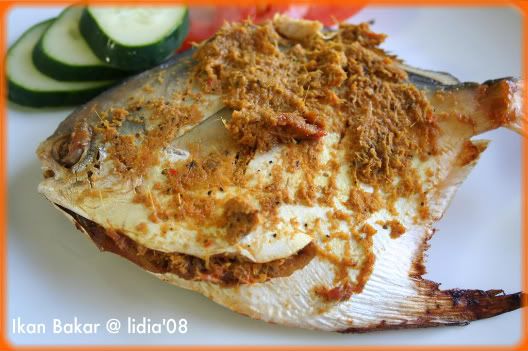 Directions:
Clean up the fish and drizzle some lime juice all over it. Let it immersed for 10minutes. Then grind all of the remaining ingredients in a blender until smooth. Fill up the stomach cavity with the smooth seasoning and put some all over the body as well. Place the fish on an aluminum pan and grill them for 45minutes at 350F. Flip it over on the mid way.
Serve it with warm steamed rice and fresh vegetable such as cucumber, tomato or lettuce.