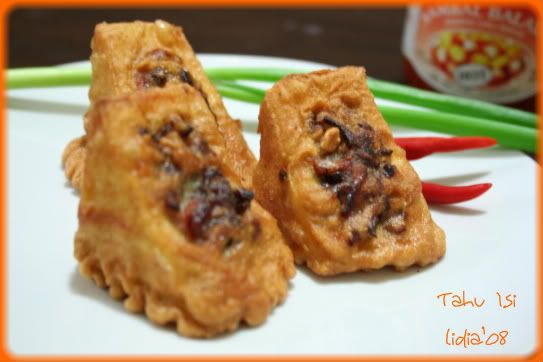 Just want something to accompany our afternoon tea...
Ingredients:
- hard tofu, cut into triangle shapes and scoop out the center part
- 200gr of ground beef
- 2 carrots, dice it
- 2 green onion, chop thinly
- 4 cloves of garlic, chop thinly
- 1 clove of small red onion, chop thinly
- 1Tbsp of oyster sauce
- 1Tbsp of sesame oil
- 1tsp of ground white pepper
- salt
- sugar
- oil for frying
To make batter:
- 3 Tbsp of rice flour
- 2 Tbsp of maizena/corn flour
- 1 egg
- salt
- 1 tsp of ground coriander
- 1 tsp of garlic plus seasoning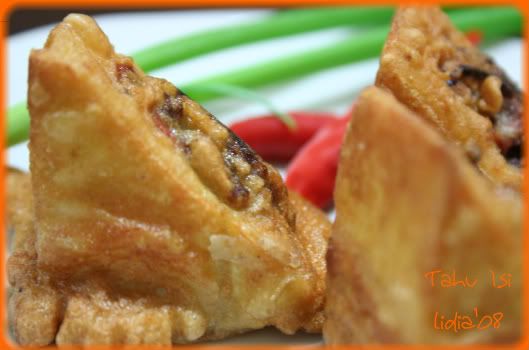 Directions:
In a wok, saute garlic and onion with sesame oil until fragrant. Add ground beef a nd continue to cook and stir until change color. Add carrot, oyster sauce, and pepper, stir and cook for 4minutes. Adjust the taste with salt and sugar. At last add green onion. Let the temperature cool down. Take a spoon of it and stuff into the hole of tofu one by one until all is done. Put it aside.
Prepare the skin by mixing well all of the ingredients for batter and use it to dip the stuffed tofu before frying it (to get crunchy skin).
Deep fry stuffed tofu under medium heat until brownish. Serve while warm with some fresh chili and a cup of tea.