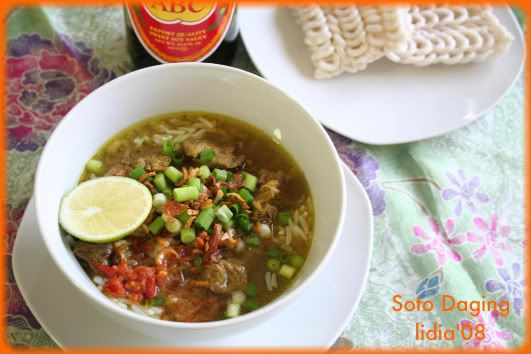 This is the first time I made soto from scratch...usually I used instant seasoning - a time and energy saver...
I asked my friend
Lucia
for the recipe and add ground coriander to spice up. I ended up putting too much turmeric and turned my soto a bit bitter. Oh ya I had some side dishes to skip since I did not have them on stock...Enjoy my simplified recipe...
Ingredients:
- 1kg of beef
- 6cloves of garlic
- 4cloves of small red onion
- 1 lemongrass
- 4 lime leaves
- 1/2tsp of ground coriander
- 1tsp of ground turmeric
- salt
- pepper
- sugar
- water
- oil for saute
Side dish:
- bunch of bean sprouts (I skipped this one)
- clear vermicelli (I skipped this one)
- boiled eggs (I skipped this one too)
- fried onion
- green onion, chop thinly
- chili paste
- sweet soy sauce
- lime
- Indonesian crackers (
kerupuk
)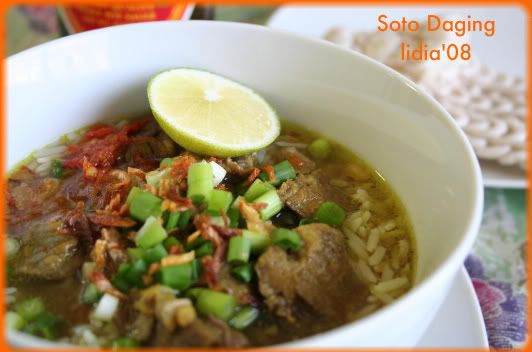 Directions:
Boil beef with water in a pot until tender. Crush garlic and onion until smooth and then saute it with a little bit of oil. Add it to the pot and stir it well. Add the rest of ingredients, stir it well and adjust the taste with salt and sugar.
To serve, in a bowl place steam rice on the bottom and arrange bean sprout, vermicelli and boiled egg on top of it. Pour the soto, sprinkle chopped green onion and fried onion. Add chili paste, soy sauce and drizzle lime juice. Add crackers at the side.