On one of my lazy days..I prepared this chicken laksa using instant seasoning. Its hot soup was perfect for that early winter day...
Ingredients:
- 4 chicken thighs
- 1/2 jar of instant laksa seasoning (I used
Cap Ibu
/Mother Brand)
- 1lt water
- 1/2 can of coconut milk
- salt
- sugar
Side dishes:
- boiled rice vermicelli
- boiled egg --- I skipped this
- boiled bean sprout
- fried potato
- steamed rice or rice dumpling
- fried onion
- Indonesian crackers or gnetum gemon crackers (
Indonesian-melinjo
) --- I skipped this
- lime juice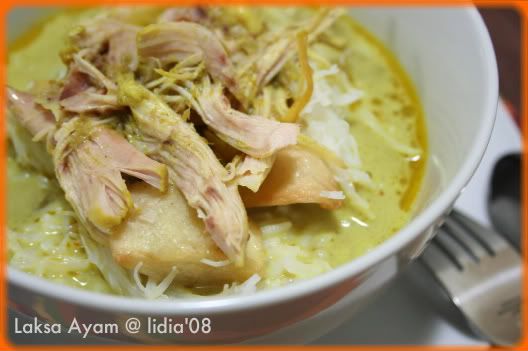 Directions:
In a pot boil chicken with water and the instant seasoning until the chicken tender. Take the chicken out and shred the meat. Keep it aside. Add coconut milk to the broth and continue to cook until boiling. Adjust the taste with salt and sugar.
To serve, in a serving bowl arrange some steamed rice or rice dumpling at the bottom. Then top it up with fried potato, vermicelli, bean sprout and shredded chicken meat. Pour the soup over and sprinkle some fried onion. Drizzle some lime juice. Add crackers at the side.